ABC Airporter Service is an Airport Shuttle Service (Airport Transportation) company that is fully licensed and insured under the authorization of California Public Utilities Commission with a Transportation Charter Party License. ABC Airporter has the full authority to operate throughout the entire state of California. ABC Airporter had applied for a Transportation Carrier Permit & Passenger Stage Corporation in September of 1997. The CPUC had given the permit in early August of 1998. ABC Airporter began its operations in September of 1998 in Santa Clara County, San Mateo County & Alameda County. ABC Airporter was established with just one Silver & Blue Ford Aerostar in 1998 serving passengers via on demand shuttle operation basis at the SJC San Jose Mineta Airport. Slowly as ABC Airporter's service was exceeding most passengers expectations, it began its operations as Door To Door Pre-Arranged/Reservation Shuttle in San Francisco & Oakland Airports as well. Then in the early 2000's ABC Airporter had a fleet of vehicles from minivans to larger group vans. To be easier to spot and for ABC Airporter to standout ABC Airporter had changed its theme color from Silver to Dark Royal Blue in April of 2005.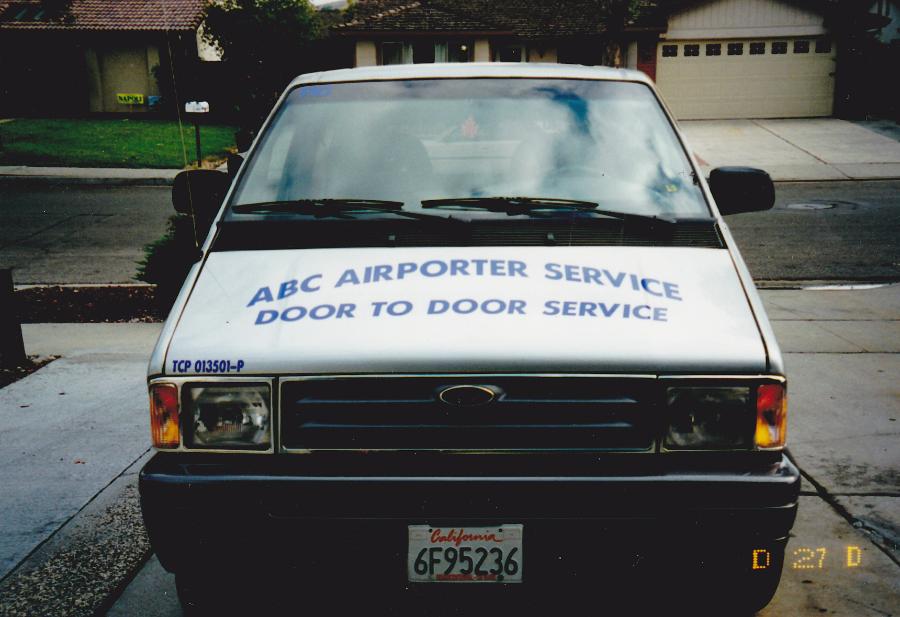 ABC Airporter Service as of now serves many more counties at the moment it has permits to operate in Alameda County, Contra Costa County, Fresno County, Merced County, Monterey County, Sacramento County, San Joaquin County, San Mateo County, Santa Clara County, Santa Cruz County, Solano County, Yolo County.
Why choose ABC Airporter vs others?
Going to the airport with someone who you've never met before could be pretty dangerous, the person could be aggressive & rude, drives like a maniac, not safe on the road speeding excessively, on the phone for the entire trip not listening and paying attention on the road could be harmful and can result in serious matters. ABC Airporter Service lets their customers know how the drivers are and where our drivers come from, just like behind the products or service they're buying from a retail store or somewhere else. But when it comes to transportation business they care for how safe they are on the road. So the following is a quick summary that will give you some information about our drivers.
All of our Drivers are:
1) An old organized group of Professionals & Experienced Drivers
2) Drivers that hold a driving record of 10 years or longer
3) Clean D.M.V Record & Background
4) In Good State of Health
5) Soft Spoken and in Proper Attire
6) Clean Vehicles
7) Smoke Free Vehicle/Environment
8) Fully Licensed & Insured while inside an Operating Vehicle
9) California Highway Patrol checks Vehicles monthly for Safety & Regulation Rules
- ABC Airporter Service is currently on the top of the list in San Jose for award winning Ground Transportation for the past 6 years. ABC is one of the few companies whom you can rely on and be stress free about having a driver at your doorstep for a flight departure or at the airport upon your arrival, whether it's early morning or late at night.

Copyright 2010 © abcairporter.com All Rights Reserved.